UPCOMING EVENTS
Our next big event is our Gala, this years this is theme is Luau! So grab your grass skirts and get ready to have some fun.  Click below for info on tickets, donations and/or sponsorship.
Events
DR. GARRY MCKINNON CHAMPINON OF CHILDREN AWARD
The Board created the Dr. Garry McKinnon Champion of Children Award to recognize dedicated community members for their commitment and determination in supporting children and youth with exceptionalities.
About The Award
SPONSORS
We have four great levels of Sponsorship for this year gala, click above to view them and if you are interested in becoming a sponsor feel free to contact our Sponsorship coordinator, Amber @ 403-361-3023 or use the contact button below.
Contact
For Tickets Call Bobbi-Jo at 403-804-3101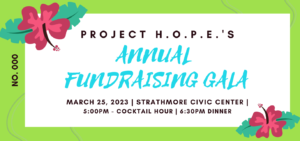 My daughter has very high needs and a lot of social and physical challenges.  She has a hard time at school and these therapies make her time there more manageable. Project H.O.P.E. has  help improver her quality of life drastically, I don't know what I would do without them.
Amber Aldridge
Project H.O.P.E. has given our daughter a voice, confidence, and a chance to be included and part of a community. I have seen first hand how vital these therapies are for children like my daughter. The therapists are empathetic, genuine and extremely competent and meet my daughter where she is at, instead of asking her to adapt to them.
Alaina Heming
I truly believe Project H.O.P.E. is a vital part of our son's social, physical, mental and emotional well being. He can socialize with his peers in an appropriate and positive way. We are grateful to have an incredible program in our community.
Amy and Adam Seely
Project H.O.P.E. would like to acknowledge the traditional territories and oral practices of the people of the Treaty 7 area, which includes the Siksika, Piikani, and the Kainai First Nations. We also acknowledge the Tsuu'tina and the Stoney Nakoda First Nations, the Metis Nation of Alberta, Region III, and all the people who make their homes in the Treaty 7 region. We pay our respects to their elders – past, present and emerging.